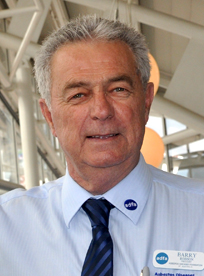 Barry Robson – adfa President
Barry Robson Adfa President
Elected as Union delegate of Waterside Workers Federation 1970.
Senior Vice President Of Waterside Workers Federation 1988 to amalgamation with Seafarers Union, which became the MUA in 1993.
Elected Alderman to Blacktown City Council 1991-1995.
Elected Assistant Branch Secretary of MUA Sydney Branch in 1995, served two terms until 2003.
Represented the Union at the Asbestos Diseases Foundation of Australia from 1996 to present date.
Appointed President in 2002 and elected as President in 2003.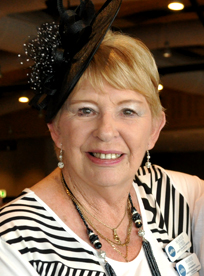 Maree Stokes – adfa Vice President
I first became involved with the Asbestos Diseases Foundation of Australia in 1997 after my husband was diagnosed with mesothelioma at age 56 years. He was a bus driver in our local area on the Central Coast of NSW. He died in 2003.
His sister also contracted mesothelioma and died in 2008.
In 2005, I became the coordinator of the Asbestos Diseases Foundation's Central Coast Support Group which is helping and giving friendship to the sufferers of asbestos diseases, their family and friends.
We campaigned at the law courts to ensure that the James Hardie Company paid and will continue to pay into the compensation fund for future victims and their families.
I was elected as Vice President in 2007, 2008, 2009 & 2010. I will continue in all ways possible to work in my voluntary capacity to make aware the dangers of asbestos and the devastation it brings to families.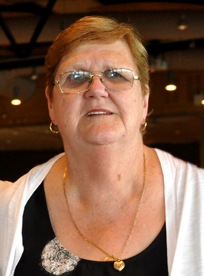 Eileen Day – adfa Secretary
My name is Eileen Day; I am the Secretary of Asbestos Diseases Foundation of Australia. A position I have held since 2002 and one in which I enjoy very much.
My first contact with the Asbestos Diseases Foundation of Australia began in November 1999, when my husband Reg, my daughters, Michelle & Kathy attended our first meeting at Granville.
I met Ella Sweeney who was the President, Barry Robson, Reg Stephenson and his wife June who was the Secretary at that time, Colleen and Allan Steel all of which I remain very close friends with. Ella Sweeney who helped me through the rough times is now my best friend.
Reg my husband of 27 years had been experiencing some breathing problems, coughing all the time and very weak. Our doctor didn't know what was wrong with him. He told him to have steam treatments. Reg had taken 3 lots of antibiotics which didn't do anything. He had x-rays done which showed there was a build up of fluid.
He was admitted to Blacktown Hospital and the doctor drained his lung. They took 4.8 litres of fluid and by 7 pm that night his lung was full again. Reg was told after waking up from an operation called pleural dias he had only 6 weeks to 2 years to live as the lung cancer he had was terminal. He was told it was Mesothelioma an asbestos related lung cancer which can only come from exposure to asbestos.
When the young doctor told me what was wrong with Reg he didn't look up at me but kept his head down. I remember saying what is the doctor talking about? I had to ask a couple of times what was asbestos?
To have to tell our 4 children their Dad was going to die, through no fault of his own, was devastating in which I will never forget.
We looked up everything we could find on the internet. It always came up as no cure "terminal".
The reason I am involved in the Asbestos Diseases Foundation of Australia it's a way for me to give something back to the many victims and their families who I have talked to over the years.
Without the support of the members of the Asbestos Diseases Foundation of Australia, I and we as a family foremost would not be able to do what I do today.
Helen Davis – adfa Treasurer
Helen Davis is the Treasurer of the Asbestos Diseases Foundation of Australia Inc and became involved with adfa after the loss of her husband Laurie in 2004 from Mesothelioma.
Dad was diagnosed in April 2003 after a lung biopsy was performed and was given 12-14 months and we are very thankful to have had a month or so longer than that with him before he passed away on 4th July 2004.
It would appear that Dad contracted Mesothelioma from using asbestos products to do home renovations in the early 1960's through to the mid 1980's.
Mum became involved after Dad's passing firstly just as a volunteer in the office helping with mail outs, etc… then when adfa needed a new Treasurer she stepped into that role which she still holds.
adfa has given Mum a new circle of friends with a common aim to make the public aware of the dangers of asbestos and also a good support network from others who understand the loss from this disease.
By Christine Davis JP