The Asbestos Diseases Foundation of Australia (adfa) is a not-for profit organisation working to provide support to people living with asbestos related diseases, family members, carers and friends.
adfa is a community based group founded by Trade Unions, victims, families of victims, and concerned citizens to meet the needs of people affected by asbestos related disease and has a long history of being engaged in advocacy work within the Australian community.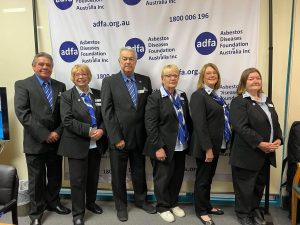 L to R: John Limpus, Maree Stokes, Barry Robson, Kate Robson, Karen Martin, Pamela Williams.