Welcome to adfa
The Asbestos Diseases Foundation of Australia (adfa) is a not-for profit organisation working to provide support to people living with asbestos related diseases, family members, carers and friends.
adfa is a community based group founded by Trade Unions, victims, families of victims, and concerned citizens to meet the needs of people affected by asbestos related disease and has a long history of being engaged in advocacy work within the Australian community.
Meet the adfa committee below: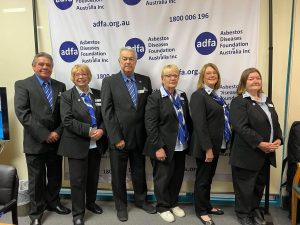 L to R: John Limpus, Maree Stokes, Barry Robson, Kate Robson, Karen Martin, Etta Kinnaird.
Mesothelioma and the Australian Mesothelioma Registry
Justin Harvey from the Australian Institute of Health and Welfare (AIHW) presented on occupational and non-occupational exposure of Mesothelioma. Full details can be found here: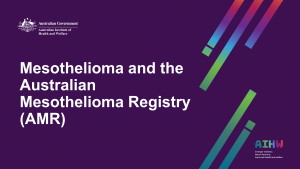 "Take a Breather on Us"

Above: Etta Kinnaird, Brett Holmes, General Secretary NSW Nurses and Midwives' Association, 3 hard working nurses and Barry Robson at the presentation of the T2 tea boxes.
To thank our Nurses and Paramedics, for their dedication during the Covid pandemic, with the help of Walkin Promotions, we supplied them with boxes of T2 tea with the slogan "Take a Breather on Us". The Nurses and Midwives were extremely appreciative and grateful.
Asbestos Support Group Partners with TOGA
One of Australia's oldest asbestos support groups, the Asbestos Diseases Foundation of Australia (ADFA), located in Sydney and supporting asbestos disease victims in NSW since 1989, has today declared its sup-port for the Thoracic Oncology Group of Australasia. At a meeting between ADFA President, Barry Robson and TOGA Board Chair, Prof Nick Pavlakis, Mr Robson declared ADFA's support for TOGA and presented Prof Pavlakis with a cheque in the sum of $25,000.00.
In expressing his support for TOGA Mr Robson said:
"We want to support an organisation that is going to come up with better treatment outcomes for our members, for people with mesothelioma. Ultimately we want to see a cure. We see TOGA as the way forward."
TOGA Board Chair, Prof Pavlakis said:
"We see working in partnership with groups like ADFA to be absolutely essential to our ongoing work. After all, it is those groups that represent the patients, the people that we need to serve with our research and trial work."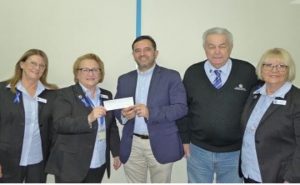 Asbestos Awareness Day
The launch of Asbestos Awareness Week 2021 on the South Coast of NSW was most successful. Barry Robson and Karen Martin from adfa met with the South Coast Labour Council on Wednesday 25 November 2021. The meeting was a great success. adfa provided a lot of publicity for the asbestos cause. Barry spoke on radio and Karen Martin did an impromptu interview with WIN Television that has been seen around the country. You can see Karen's interview on adfa's facebook page or on our website.